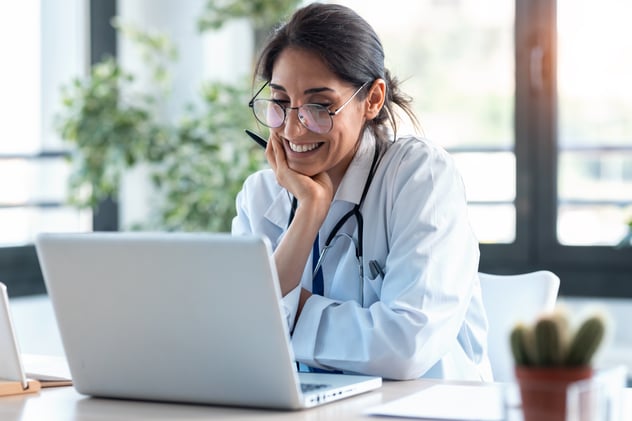 Artificial intelligence (AI) and automation are making big changes in the medical field, reshaping how healthcare happens in the United States. A nationwide study found that 90% of healthcare companies had an automation strategy in place by the year 2020, up from 53% the year prior. Today, almost every healthcare organization is actively planning its future with AI.
Why are billing and coding such significant aspects of the AI discussion? It's because they fit naturally into the skillset of automation.
Will

FQHC Billing Services

be

Replaced by AI?
First, let's address a common concern. Someone who works in FQHC billing or coding may worry that AI is trying to take their job. These roles are being augmented by AI, not replaced by it.
In the technology world, augmentation means AI and people work together to enhance performance and support better decision-making. To put it another way, the goal of AI is to make human lives easier. Even the most sophisticated healthcare AI can't operate without human supervision and adjustment.
In a National Institutes of Health (NIH) article about the rise of AI in healthcare, the authors state, "There is great optimism that the application of artificial intelligence (AI) can provide substantial improvements in all areas of healthcare from diagnostics to treatment. It is generally believed that AI tools will facilitate and enhance human work and not replace the work of physicians and other healthcare staff as such."
How Does AI and Automation Impact Patient Care and Billing?
Workflow Automation
One of the most prominent applications of AI in healthcare is the area of workflow automation. As the Medical Group Management Association (MGMA) explains, workflow automation standardizes processes to "significantly impact care delivery and patient experiences, while optimizing employee workloads."
In billing and coding, workflow automation makes processes faster, more accurate, and less stressful. Patients notice greater speed and fewer frustrations with the process. According to Medical Economics Journal, properly implemented automation creates a balance between medical care and medical coding, allowing healthcare clinics to operate more efficiently and effectively.
Patient Services and Monitoring
The NIH sees a positive future for AI in patient care, indicating that it will provide opportunities for better patient outreach and specialized services to support people during their diagnostic and treatment phases. With human guidance, AI can improve image analysis, medical device automation, and patient monitoring.
For the billing and coding portions of these services, AI and automation can match patients to the proper codes and may even be able to learn about their patient experiences for deeper insights into potential upcoming care. This allows healthcare organizations to make better predictions about costs, budgets, and resources.
What are the Billing and Coding Benefits of AI for

FQHC Revenue Cycle Management

?
FQHCs maintain tight budgets and schedules as they serve patient groups that desperately need their services. Automation and AI add a new layer of productivity to FQHC billing processes, using scarce resources more wisely.
Removes the burdens of repetitive tasks
Improves efficiency
Minimizes errors
Strengthens revenue cycle management
For example, Vanderbilt Health in Nashville, Tennessee offset a pandemic-related loss of RCM talent by implementing automated billing practices. The company's chief revenue cycle officer, Heather Dunn, explained that they needed to "move away from the processes that have been in place for more than 20 years — like 'High-dollar account outstanding Monday' and 'Aged-account Tuesday' — toward a more intelligent approach."
As a result, this healthcare organization saved 116,000 staff hours in a single year and automated about 1.8 million records. Dunn marveled at the success of their automation strategy, saying, "Think about the cash flow that you could increase and the wasteful processes that you could eliminate by taking a similar approach."
FQHC Revenue Cycle Management

Expertise With Altruis
When you need AI and automation expertise, turn to Altruis. For many years, we've been using automation to improve healthcare billing and coding, leading to positive results for our partners.
Schedule a call with Altruis to learn more.