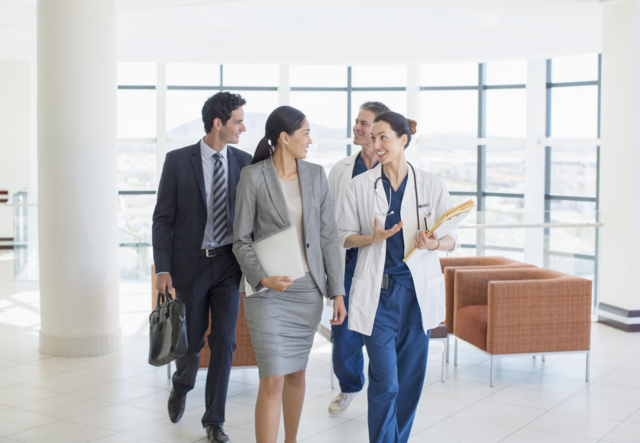 Improve your revenue cycle management to minimize the rejections and denials you receive in medical billing.
Rejection is part of the medical reimbursement process. Large and successful healthcare centers often receive hundreds of notifications per month about rejected/denied reimbursement claims in their revenue cycle management.
However, there's no need to accept a persistently high rate of rejections or denials. Many previously declined claims can be resubmitted and successfully resolved to bring in additional revenue. Plus, it's possible to prevent rejected claims from the outset.
Revenue cycle management is a technique for improving the profitability of a healthcare organization. Below are 4 ways to get a grip on unclaimed revenue and leverage savvy strategies for accomplishing the highest possible rate of reimbursements.
Tip #1: Improve Billing Training for Existing Staff to Increase Revenue Cycle Management
It takes extensive procedural knowledge to oversee proper medical coding, billing, and reimbursement. Some staff members might not have the training it takes to accomplish these tasks efficiently, or perhaps their knowledge has gone stale and out of date.
Here's a common example of how costly errors happen. Imagine that a healthcare center's office manager doesn't quite understand the difference between rejected and denied Medicare reimbursement claims. Rejected claims are usually missing a small amount of information and can be fixed and resubmitted. Denied claims made it through the submission process and were denied by the payor, yet many of these claims can still be successfully appealed.
In this scenario, the manager isn't correctly sorting incoming rejected/denied claims by status to reveal which are still within the rules for resubmission/appeal. Therefore, the business is missing out on potential reimbursements.
A simple misunderstanding like this can have a huge impact on a healthcare center's capacity to capture the highest possible level of revenue. Improve your office's training to improve its revenue cycle management.
Tip #2: Seek Out Highly-Educated Billing Specialists
In today's world it has become increasingly difficult to find the resources that you need. Recruiting, interviewing, hiring and training new individuals is a time consuming and expensive proposition.
Consider working with a professional medical billing partner that exists outside your organization, rather than relying on your staff alone. A great billing partner focuses exclusively on a set niche of services and isn't distracted by other responsibilities that come with running a medical office.
Gains come from using more productive business practices and losses are minimized in rejected claims, denied claims, errors, and inefficient procedures. Over time, expenses go down and revenue goes up.
Look for a billing partner that can handle a wide range of tasks like:
Medical billing
Medical coding
Managing your medical reimbursement process
Efficiently addressing rejections, denials, resubmissions, and appeals
Provides insights for process improvement
Provider credentialing
Retroactive recapture through a service like

RetroPay

TM

Advisory services

that improve revenue cycle management
Tip #3: Boost Your Organization's Financial Hygiene
How is your organization's financial hygiene? As healthcare providers, we're accustomed to the idea of human hygiene, but financial hygiene is a measure of procedural cleanliness for financial matters like billing and reimbursement.
As an example, consider the provider credentialing process. Is your provider credentialing fast, smooth, and error-free? When it's time to gather or share new provider credentials, are they readily available, accurate, and up to date?
Using incorrect or outdated credentials is an example of poor financial hygiene at a healthcare facility. Upgrade your hygiene by working with a professional billing partner with the industry's best practices in modern revenue cycle management.
Tip #4: Get the Most out of Automation/Technology
Most medical offices have already taken major steps toward the digitization of patient information and medical records under the Health Information Technology for Economic and Clinical Health (HITECH) Act, plus more recent updates in the 21st Century Cures Act.
Still, some medical providers don't take advantage of new automation and technological solutions for basic medical business management. Are you digitizing every step in the process?
Now's a good time to review processes for handling doctors' handwritten notes, document scans, faxes, and other forms of physical paperwork. A Federally Qualified Health Center (FQHC) must ensure any medical billing partner/platform uses the best digital FQHC billing strategies.
Double-check that you're also using the latest credentialing protocols from the Coalition for Affordable Quality Healthcare (CAQH). This is a database for medical providers that sets forth uniform standards and maintains doctor credentials to facilitate the fastest possible processing.
Refine Your Healthcare Revenue Cycle Management
It's challenging to manage the constant flow of medical reimbursement data. Altruis can help your organization minimize hassle and maximize the revenue you receive from reimbursements.
Altruis shows healthcare providers how to optimize revenue cycle management. We're your full-service billing partner and your friend in the business of running a medical center. Contact us today to learn how we can improve your financial success.