Organizations that care for Medicaid patients and the underserved often end up with substantial self-pay write-offs. After all, FQHCs and other safety-net organizations don't turn anyone away—their mission is providing high-quality care to all, regardless of insurance status or ability to pay.
For these organizations, the backlog of self-pay balances builds and builds—and providers are left with little, if any, effective recourse. Sending the accounts to collections typically fails to recoup meaningful reimbursement. Worse, traditional collection methods risk stressing and even alienating underserved self-pay patients who need critical additional or follow-up care. Worried they'll be turned away or pressed to pay their balance on-site, patients with unpaid balances may avoid appointments and shy away from contacting (or responding to) their providers. In the worst cases, they end up in the ER—when the right preventative or outpatient care could have averted the need for an emergency visit.
Meanwhile, on the financial side, organizations that previously provided care for these patients aren't reimbursed for the care they delivered—creating a perpetual cycle of uncompensated care, self-pay write-offs, and bad debt.
For providers, there's no silver bullet. But there is a way to tackle self-pay balances without resorting to traditional (and ineffective) patient collections.
Retroactive Medicaid and MCO reimbursement—identify, bill, collect
A significant percentage of self-pay patients are eligible for—or become eligible for—Medicaid coverage. Once these patients are successfully enrolled, their Medicaid or managed care (MCO) coverage can be applied retroactively to cover care provided in the months preceding their application—turning likely write-offs into meaningful revenue for providers.
Why aren't Medicaid-eligible patients already enrolled?
They may think the enrollment process is automatic, something that CMS or the provider completes on their behalf.
They might be unsure how to apply.
They may need assistance completing the application. This is especially true for those in crisis and those with severely limited access to transportation, technology, and other resources.
And the simplest reason: they may not realize they're eligible.
Whatever the reason, there's often a lag between when a provider delivers care and when that self-pay patient becomes a Medicaid enrollee. But when that coverage can be effectively, efficiently identified and billed after the fact—within the timely filing window—providers can retroactively turn uncompensated care into Medicaid and MCO reimbursement.
Then, as the provider continues to serve these patients, billing and collecting becomes much more straightforward, predictable, and cost-effective—the patient's eligibility can be updated in their patient record for future visits, ensuring all relevant payers are billed quickly and accurately for all eligible patient encounters. Write-offs decrease. Revenue that would have been written off is recovered. And baseline Medicaid revenue goes up.
Strengthening Medicaid and MCO reimbursement—a real-world example
In October of 2016, a safety-net organization with significant self-pay volume and average monthly Medicaid revenue of $350K implemented a new technology-enabled service to identify, bill, and collect retroactive Medicaid reimbursement.
The service—Altruis RetroPay™—enabled the automated monitoring of all unreimbursed self-pay encounters that had not yet passed timely filing deadlines. When billable coverage was identified, eligible encounters were automatically billed and collected.
The results speak for themselves: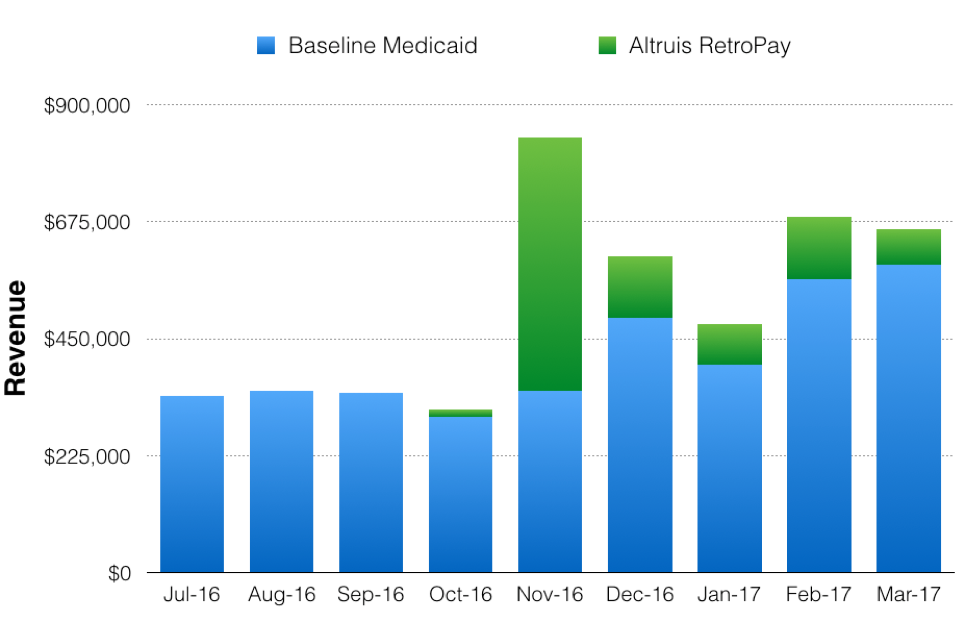 In the 6 months following go-live, RetroPay™ captured $750K in retroactive Medicaid reimbursement, and $145K in additional incremental MCO reimbursement for patients identified through RetroPay™—$895K in revenue that otherwise would have been written off.
In month 6, baseline monthly Medicaid revenue was up 78% compared to year-over-year average—$650K vs. $350K.
That's powerful stuff, especially for organizations operating on such tight financial models. And while the dollar amounts are impressive, what's more meaningful is the impact—more resources to empower the mission of serving others.
Ready to learn more about turning uncompensated care into healthier revenues? Check out Altruis RetroPay™ or contact us today.